Types of silk fabric
There are many types of silk fabric produced. These are the most well-known: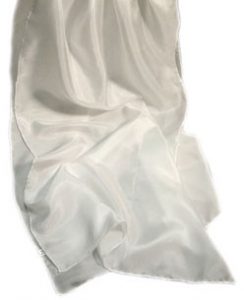 Habotai – also known as China silk, Pongee, the "classic" silk fabric and was used to line kimonos. This type silk has differen thickness. A sheer basic plain weave fabric that is soft and drapes well – usually used as garment lining. The basics silks are typically used for lining, painting and printing, handkerchiefs, lightweight loose fitting garments and garment dyeing, banners, art & craft, film and theatre.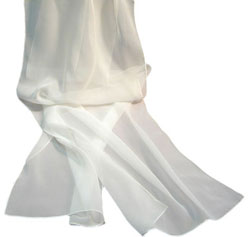 Chiffon – An elegant, sheer and more loosely woven fiber with a soft beautiful drape and a crepe like texture. 100% silk chiffon, they float like a feather on a summer breeze! These are probably the next most popular fabric to Habotai to make scarves from as well as beautiful! Sometimes called Crepe Chiffon, this fabric is highly suited for special occasion dresses, scarves, nightgowns, and linings, bridal, lingerie, smart day, evening and cocktail wear, veils, shawls, scarves, nuno felting, painting, printing etc. Also frequently used in film and theatre work. Chiffon is softer and thinner than Georgette. [Georgette is made like chiffon, but with a two or three ply yarn. The silk is strong and yet light in weight with a matte crinkly surface producing a wonderful drape. Designs made with this silk have a delightful light and bouncy sense. Whilst developed primarily for bridal wear it is a stunning fabric for contemporary wear. Typically used for bridal, scarves, shawls, evening wear, contemporary garments, trimmings, film and theatre.] Because of its slippery quality, chiffon is difficult to cut and sew. NOTE: Chiffon shrinks a lot because of loose weave, much more in length- drying scarves while stretched helps reduce shrinkage.
Crepe de Chine – The "Mercedes" of the silks, Crepe de Chine is heavier and more substantial than the Habotai, with a soft, more luxurious texture. The crepe finish adds a bit of interest and has a more subtle sheen, a smooth surface and an elegant shimmer. Additionally, Crêpe de Chine is also extremely wrinkle resistant due to its especially elastic yarns. This silk is very suitable for light blouses and tunics.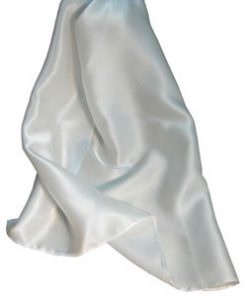 Silk Satin – These are a medium weight silk with a great drape and flow. Silky with an extremely smooth shiny top surface, a luxurious very draping silk, with a shiny satin face and matt crepe back. This is what many people think of when they think "silk". Nice when you want something more luxurious and less sheer. It can be used to create elegant and chic designs with a classic bias cut which are often considered slinky and sexy. Ladies' blouses, seductive yet sophisticated lingerie, lounge wear, evening and cocktail wear, dressage stocks, millinery, film and theatre work.
Organza – This sheer, lightweight fabric is like a stiffer, crisper, and sturdier cousin of chiffon. Organza is a versatile silk which can be used to add layers of volume and also makes a great structured silk for use as backing for sheer designs. Organza makes us think of all things bridal, romance and big occasions, couture, structured outfits, millinery, veils, nuno felting, art & craft, film and theatre.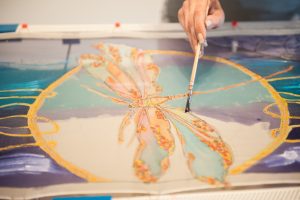 Hope it will help to choose right type of silk.