About Me
My name is Diana Kisirauskiene and I am a silk painter, artist. I was born in Lithuania. I lived in Swindon, England, for some time but now I live in France. I have been interested and hooked on painting since childhood. The most popular topics are flowers as my mother cultivated many different types of plants in her garden. Also Chinese art interests me too. In some of my works I use famous artists design techniques. Van Gough, Climt, Dali, Mucha, Kandisnsky have inspired me. However I find painting on silk the most interesting form of expression.
In my works I am using water based resists and gutta, salt and sugar crystals as well as steam set dyes. I have learned many different techniques of silk painting, but I am constantly learning and searching for new techniques and designs so as to keep my art fresh and exciting.
My biggest passion is silk painting and silk flowers. It is like meditation for me, I find it relaxing and really enjoy making things look beautiful. Seeing the look on my clients face when I hand them their bespoke items gives me immense pleasure.
I am very happy to take on commissions which can capture you or a loved one's personality in a scarf or other silk item. My pieces make amazing gifts, each one is made lovingly in England with a great deal of care. Why not treat yourself to such a unique rare beauty.
Please feel free to contact me with any questions or to arrange an appointment to look at my work. I feel this is often the best way to see the fine workmanship and skill of my work.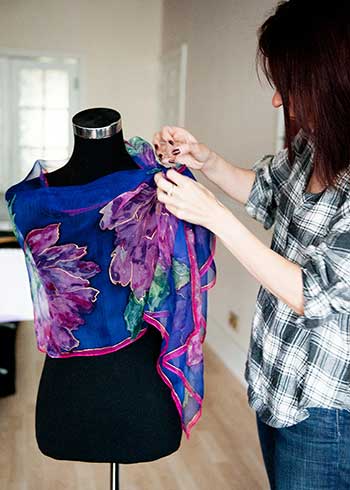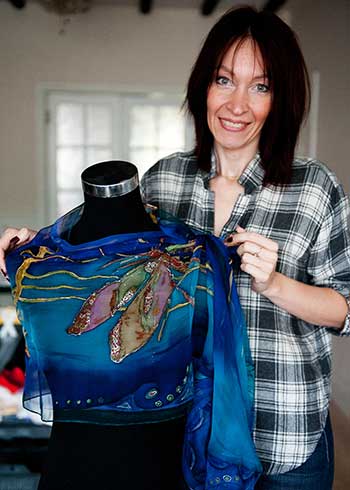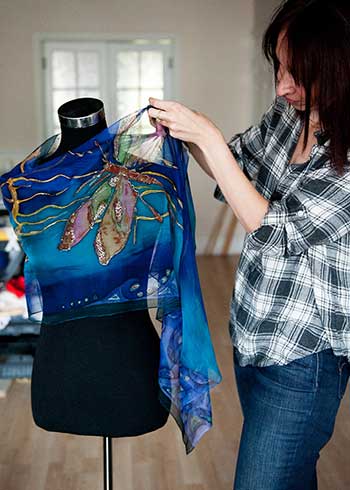 ---
Making Silk Products
Silk is probably the most beautiful of all textile fibers and is acclaimed as the queen of textiles. It comes from the cocoon of the silk worm and requires a great deal of handling and processing, which makes it one of the most expensive fibers. Today China is the leading silk producer of the world. Other major silk producing countries include Japan, India and Italy.
I use water based resists and gutta, salt and sugar crystals as well as steam set dyes which gives a very professional finish.
Purchases & Commissions
On my website you will see some of my current designs, however, I also accept commissions, so if you have a particular design you wish to have painted onto a silk picture, scarf, tie, tableware or fashion product then I am more than happy to create this for you.